Gold Street Main Surgery
Great Chesterford Branch Surgery

Gold Street Surgery, Gold Street, Saffron Walden, Essex CB10 1EJ
Tel: 01799 525325
Branch surgery at:
School Street Surgery, School Street, Great Chesterford, Saffron Walden, Essex CB10 1NN
Tel: 01799 525325
Drs Iqbal, Brown and Boyce

WE ARE ACCEPTING NEW PATIENTS – see "How to register with the surgery"
COVID SPRING BOOSTERS

At the moment, appointments for Covid Spring Booster vaccinations can ONLY be booked by phoning 119 or online through the National Booking Service. Unfortunately the surgery is not currently able to book appointments for patients direct.
PUBLIC HOLIDAYS CLOSURE
Gold Street and School Street Surgeries will be closed for the public holidays on Monday, May 2, Thursday June 2 and Friday June 3. The surgeries will reopen as normal at 8.00am on Tuesday May 3 and Monday June 6 respectively. Please order in good time if you need repeat medication.
If you need non-emergency medical advice when the surgery is closed please visit www.111.nhs.uk. If you don't have access to the internet phone 111 (free call from mobiles and landlines). Please dial 999 if you have a medical emergency.
APPOINTMENTS AT GOLD STREET
While coronavirus remains at a high level in the community, all but the most urgent GP appointments will remain subject to telephone triage by a clinician, who will first discuss with you your needs and how best to help. If a face-to-face appointment is needed and safe, we will invite you to come to the surgery for examination, tests or treatment.
Many of our patients are the most frail and vulnerable people in the community, including the frail elderly, people with disabilities, and people with compromised immune systems. Even with vaccination, there is a risk that a coronavirus infection could cause serious illness or complications. It is essential we do all we can to continue to protect them and minimise the risk of spreading infection.
While we need to pause some routine services, there are some things that we know cannot wait. Please continue to contact us if you (or someone you care for):
have a serious or urgent health concern that you need to speak to someone about today
have worrying symptoms that could be a sign of cancer and need investigation
have been contacted about booking cervical and other screening or immunisations
have a complex long-term condition that you need ongoing help with
have a serious mental illness and need support
have a learning disability and need medical help
Accessing our services
When contacting us please tell us as much as you can about what's wrong so that our Care Navigation trained receptionists can direct you to the healthcare professional best suited for your needs. This might be a GP, nurse or another specialist such as a physiotherapist, pharmacist or paramedic. The information you provide will also help us to prioritise your care. Our priority will be to ensure you receive care quickly and might offer you an telephone, video or face-to-face appointment, arrange a home visit or refer you to another service.Please note our reception and other staff are subject to the same strict rules on privacy and patient confientiality as our GPs and Nurses.
The Lord Butler Leisure Centre vaccination centre is not a walk-in site and appointments must be booked in advance. Please note that appointments for booster vaccines CAN ONLY be booked through the national booking system (www.nhs.uk/covid-vaccination). They cannot be booked by or at the surgery.
If you have difficulty getting to the leisure centre for your vaccination, the Essex Wellbeing Service is able to organise transport. Transport will be provided by taxi service. This service is free of charge and can also be used if you need transport to get to your first or second dose appointments.
Essex residents who would like help getting to their appointments can email:
pr********************@nh*.net">pr********************@nh*.net
 or call
0300 303 9988
Please note this service is not connected with the surgery. Please address any enquiries or queries  only to the Essex Wellbeing Service.
STAYING COVID-SAFE AT THE SURGERY
Coronavirus remains highly contagious and a serious risk for some people, even when vaccinated. This makes it important to continue to follow our rules for YOUR SAFETY, for the safety of our other patients, and for our staff. Although the laws around Coronavirus are being relaxed, we are still following safe infection prevention and control measures in the surgery.
For these reasons, when in our surgery, you still need to:
Wear a mask or facial covering at all times*
Use hand gel
Keep your distance from others (two metres) and follow directions for our one-way system around the surgery
To keep numbers in the waiting room to a minimum, please be prepared for a wait outside.
DO NOT COME TO THE SURGERY if you have tested positive for Covid 19 within the last 10 days, even if you feel fine. You could still be infectious and pass the virus on to a vulnerable person.
If you have (or think you have) a respiratory infection, please DO NOT come to the surgery or make a face-to-face appointment until you have obtained a negative test. If you need treatment or medication while waiting for a test result, please make a telephone appointment.
Many of our patients are some of the most vulnerable people in our community, and we need to keep everyone safe to avoid transmitting the virus. Even though our local vaccination programme has been hugely successful, there are still big risks for many people, for example those with weakened immune systems.
* If you are unable to wear a mask or face-covering for any reason, please let us know, preferably before you arrive
*****
Please remember surgery staff are doing their best at a difficult time for everyone, with unprecedented levels of demand and backlogs of some routine work and processes. We fully understand people's anxieties, but abuse, insulting or threatening behaviour towards our staff will not be tolerated. We reserve the right to remove offenders from our surgery list.
We may have to refuse entry to the building to those who don't comply with goverment guidance or our rules. Please click HERE for more information on masks.

Your Repeat Prescription

Gold Street Surgery regrets that because of staff shortages it has been necessary to temporarily increase the preparation time for repeat prescriptions to FIVE WORKING DAYS. We apologise for any inconvenience.
We have recently adopted a new Electronic Prescription Service. This means that most repeat prescriptions can be sent to your nominated pharmacy (if you're a non-dispensing patient) by a secure electronic system. This means a quicker and more streamlined service than our old system, where a paper prescription is printed off and physically given to the pharmacy.
Safety is still assured, as all prescriptions will still be reviewed by a GP before being sent. If you order your repeat medication online, this makes the process of ordering and receiving a repeat prescription completely paperless. You will still get a paper order form from the pharmacist when you pick up your medication if you prefer.
If you haven't done so already, please let us know your nominated pharmacy.
 APPOINMENTS AT GOLD STREET SURGERY

Throughout the pandemic, Gold Street Surgery has continued to offer face-to-face appointments to all patients who have a clinical need to be seen. For example, where an examination or treatment is necessary, where a blood or other test is needed, or when – in a discussion between the doctor and patient – it is felt that a face-to-face conversation will offer better diagnosis or understanding of a problem.
Throughout the pandemic, the surgery has continued to offer face-to-face appointments for procedures such as cervical smears, blood tests and child immunisations, as well as running highly successful flu and covid vaccination campaigns.
The surgery has also made extensive use of telephone and video consultations and asked patients to send photographs to aid diagnosis (for example, of a rash or lesion) where no intimate area is involved.
The guiding principle has been to reduce the need for face-to-face contact to help prevent the risk of transmission of coronavirus to patients and to staff – particularly as many Gold Street patients are potentially vulnerable to a dangerous virus infection.
We are currently facing unprecedented demand on our phone lines and we would ask you to be patient and try to call outside peak times if possible.
The surgery is constantly reviewing how we can best make our reception area more open to patients, while maintaining social distancing and protecting all patients from possible infection. At the moment, we would ask you to help us by:
 If you have an appointment, please arrive on time rather than early or late
Please be prepared to wait outside to keep other patients safe and maintain social distancing
Please wear a mask or other face covering if you can
 COVID-19 Vaccinations
In conjunction with other local GP surgeries and West Essex Clinical Commissioning Group, Gold Street Surgery is continuing to vaccinate patients designated by the Government against COVID-19.
Vaccinations will be distributed in order, to the groups the Goverment has decided will be next to get the vaccine or boosters. Listen out on news bulletins and so on for latest updates, and there's more information here. Please use the online National Booking Service: www.nhs.uk/covid-vaccination when you hear your age group is being called for vaccination.
Please note that Gold Street Surgery is no longer able to book you for a vaccination or a booster, even if you want to be vaccinated at the Lord Butler Leisure Centre as your most convenient location. All bookings are now handled through the National Booking Service. If you would particularly like to be vaccinated locally, we recommend you keep trying, as more appointments are being added all the time.
Alternatively, bookings can be made by calling 119 free of charge, anytime between 7am and 11pm seven days a week.
If you are in a priority group, please make sure the surgery has your up-to-date contact details. Please let us have a note of any new number – especially for your mobile phone. Please try and avoid phoning us to tell us, and avoid other non-urgent calls, as our phone lines are already very busy.
You can see answers to some Frequently Asked Questions about the vaccination programme HERE.
There have been a number of reports in the press about scammers trying to exploit fears about Covid-19 to extort money or steal bank details or other information.
The COVID-19 vaccine is free of charge on the NHS and is only available through your GP or authorised centres. We will never ask for:
your bank account or card details
your pin or banking password
copies of personal documents to prove your eligibility for a vaccine, such as your passport, driving licence, bills or pay slips
If you get a suspicious email or phone call, Report It
You can find out more about stopping nuisance and scam calls here
How to access your COVID-19 vaccination status
From the Government's website www.gov.uk:
"Through the NHS App
"You can access your COVID-19 vaccination status through the free NHS App from 17 May. You can access the app through mobile devices such as a smartphone or tablet. Proof of your COVID-19 vaccination status will be shown within the NHS App. We recommend that you register with the app before booking international travel.
"By calling 119
"If you do not have access to a smartphone and know that the country you are travelling to requires COVID-19 vaccination status, you can call the NHS helpline on 119 (from 17 May) and ask for a letter to be posted to you. This must be at least 5 working days after you've completed your course of the vaccine. We expect the letter to take up to 5 working days to reach you.
"The letter will be sent automatically to the address registered with your GP. The 119 call handler you speak to will not be able to see your address to check this with you. If you've recently moved house, make sure you've given your new address to your GP practice before calling 119.
"Do not contact your GP surgery about your COVID-19 vaccination status. GPs cannot provide letters showing your COVID-19 vaccination status."
   Gold Street Surgery – open and working for you
Please be assured that, despite coronavirus (and some stories in the national press!), Gold Street and School Street Surgeries remain open to support you with your healthcare needs. However, to minimise risk to both our patients and staff, Gold Street Surgery for the time being aims to manage as many problems as possible by phone, email or video – reducing face-to-face contact and visits to the surgery to what is actually needed for your care.
For this reason, all patients requiring help or advice will normally be triaged by phone first (voice or SMS), and will only usually need to attend the surgery if further assessment, examination or treatment is needed. For example, for booked blood or other tests, cervical smears, treatments or for vaccinations. For some problems, we may offer you a video call if you have a suitable phone or PC/ laptop/ tablet, or ask you to send in photos of, for example, a rash.
In November, for example, we had a total of just under 4,000 appointments available with our clinicians, spread across the whole range of surgery functions.
Be aware that the surgery is currently receiving a much higher volume of calls than usual, and phone waiting times may be longer as a result. We would advise ringing back later if you have to hold on for a long time, as our telephone system places a time limit on incomplete calls for safety reasons.
IMPORTANT: If you are emailing photos or queries for clinical assessment, please ensure you already have a telephone consultation booked with a GP.  You need to book the appointment in the normal way by calling the surgery on 01799 525325. We do not have the capacity to respond to requests, queries or photos without a booked appointment, and they may not be seen if sent out of clinical context.
​
If you don't have access to a smartphone, tablet or other device, or are deaf or blind, we are happy to discuss with you how best we can communicate with you to minimise your, and our, risk. We are hoping to introduce "online consultations" shortly, to provide another channel for communication.
Al the systems we're using have been tried, tested and refined by the surgery and by colleagues in other healthcare settings over a long period, and been verified as being safe and effective by our professional bodies and care regulators.
Please help us, and make things safer for everyone, by observing the following safety guidelines:
If you have been asked to come to the surgery, please arrive on time – don't come early

Be aware that you may have to wait outside to restrict the numbers inside the surgery building, and dress accordingly. Unfortunately, we are not able to provide a shelter outside because of the limited space and need for constant access for delivery vehicles and ambulances

Please wear a mask or other face-covering
Please observe social distancing and hand hygiene guidelines at all times and follow our staff's instructions

DO NOT come to the surgery if you are concerned you may have coronavirus – visit 111.nhs.uk or call 111 instead for advice (see below)

PLEASE NOTE OUR WALK-IN BLOOD TEST SERVICE IS SUSPENDED UNTIL FURTHER NOTICE so we can apply proper Covid screening to all patients. Please telephone the surgery for advice if you have been told you need a blood test.
If you need repeat medication, you can simply put your repeat request through our letterbox. Because of recent staff illness, we are currently asking for five days notice rather than the usual three. You don't need to come in to the surgery to give it to us. If you have a smartphone or access to the internet, you can order repeat medication through the NHS App or online. Ask us for details.
 Blood Pressure Monitoring:
How you can help
We are asking patients if they can purchase or obtain their own blood pressure monitors to carry out their own regular checks on this important health measure to avoid a trip to the surgery.
High Blood Pressure can be an added risk in many clinical conditions, including diabetes, heart disease and obstructive lung disease (COPD). It is also a risk factor in case of Coronavirus (Covid-19) infection.
Normally, the surgery would ask patients potentially "at risk" to come into the surgery and have their blood pressure taken by a health care professional. At the moment, when the surgery is still trying to minimise the number of patients attending, both for their own protection and for others, we are taking the unusual step of asking patients – if they can – to buy their own blood pressure monitor and to check their own blood pressure at home. They can then send this on to the surgery and we can add it to their medical records. All results will be checked by a clinician, who will contact the patient if follow up or medication changes are necessary.
There is some useful information about choosing and using a blood pressure monitor on the British Heart Foundation's website at BHF: Blood Pressure Measuring At Home  A Home Blood Pressure Diary to fill in is available from the surgery.
If you are unable to purchase a machine and have been asked to monitor your own blood pressure at home, please contact the surgery. We may be able to help. For those patients that can buy their own blood pressure machine, it will not only help by reducing footfall in the surgery during the Coronavirus pandemic, but also provide a long-term tool to help keep them healthy.
While you're no longer legally required to self-isolate if you have COVID-19, you should try to stay at home and away from others to avoid passing on the virus. You should stay at home (self-isolate) if you have:
a high temperature or shivering (chills) – a high temperature means you feel hot to touch on your chest or back (you do not need to measure your temperature)
a new, continuous cough – this means coughing a lot for more than an hour, or 3 or more coughing episodes in 24 hours
a loss or change to your sense of smell or taste
shortness of breath
feeling tired or exhausted
an aching body
a headache
a sore throat
a blocked or runny nose
loss of appetite
diarrhoea
feeling sick or being sick
The symptoms are very similar to symptoms of other illnesses, such as colds and flu.
What to do if you have symptoms
Try to stay at home and avoid contact with other people if you have symptoms of COVID-19 and either:
you have a high temperature
you do not feel well enough to go to work or do your normal activities
Take extra care to avoid close contact with anyone who is at higher risk of getting seriously ill from COVID-19.
You can go back to your normal activities when you feel better or do not have a high temperature.
Find out more about what to do if you have COVID-19 or symptoms of COVID-19
If someone has serious symptoms they cannot manage at home they should use NHS 111 online (people should only call NHS111 if they cannot get online).
To protect others, if you have symptoms, DO NOT GO to a GP, pharmacy or hospital
You can find out how to get tested if you think you may have coronavirus here: Testing for Coronavirus
How long should I self-isolate?
If you have symptoms or have tested positive for coronavirus, you'll usually need to self-isolate for at least 10 days.
You'll usually need to self-isolate for 14 days if:
someone you live with has symptoms or tested positive
someone in your support bubble has symptoms or tested positive
you've been told by NHS Test and Trace that you've been in contact with someone who has coronavirus
There is more advice on the Government's website:- What to do if you have or might have coronavirus (COVID-19)
**************
For Coronavirus/ COVID-19 Symptom checker: https://111.nhs.uk/covid-19
 
General information on COVID-19: https://www.nhs.uk/conditions/coronavirus-covid-19/
Asthma UK support for COVID-19: https://www.asthma.org.uk/advice/triggers/coronavirus-covid-19/#Plan
British Lung Foundation support for COVID-19: https://www.blf.org.uk/support-for-you/coronavirus
Medical Certificates (Isolation Notes) for people who are self-isolating are available from NHS111 online. See C19 Isolation Notes THEY ARE NOT AVAILABLE FROM THE SURGERY.
THE MOST UP-TO-DATE INFORMATION ON CORONAVIRUS/ COVID-19 IS AVAILABLE FROM: nhs.uk/conditions/coronavirus-covid-19/
Please ALWAYS follow Public Health England advice to:
• Always carry tissues with you and use them to catch your cough or sneeze. Then bin the tissue, and wash your hands, or use a sanitiser gel.
• Wash your hands often with soap and water, especially after using public transport or shared facilities. Use a sanitiser gel if soap and water are not available.
• Avoid touching your eyes, nose and mouth with unwashed hands.
• Avoid close contact with people who are unwell.
Gold Street Surgery is supporting vital coronavirus (COVID-19) planning and research by sharing your data with NHS Digital. For more information about this see:  
https://digital.nhs.uk/coronavirus/gpes-data-for-pandemic-planning-and-research/general-practice-transparency-notice
GOLD STREET SURGERY APPOINTMENTS
When you ring to make an appointment, the reception team will ask for a brief outline of how they can help…
This is because we have introduced something called Care Navigation. It means reception teams at GP practices across West Essex have been trained to ensure they can help you to find the best service for your needs, so you can receive the right care more quickly.
The service is only available for adults over the age of 18 and anything you share will be kept strictly confidential. Our reception staff are subject to the same confidentiality rules as our clinical staff.
Reception staff will never offer clinical advice. Instead, this new way of working is about offering you choice to see the most appropriate professionals in your local practice team or even somewhere else. It will often be quicker and mean you may not need to wait to see a GP at all.
By working this way, it helps to free-up time for GPs to care for patients with the most complex or serious health conditions that can only be managed by a doctor. More importantly though, it means you are seen first by the Clinician that is best placed to help with your health needs. The choice is always yours. It is completely up to you if you want to share information with the practice reception team, but we hope you will.
If you need non-emergency medical advice when the surgery is closed please visit www.111.nhs.uk. If you don't have access to the internet phone 111 (free call from mobiles and landlines). Please dial 999 if you have a medical emergency.
If you are contacting the surgery about a child, you may want to consult the National Institute for Health and Care Excellence's (NICE) "traffic light" system for identifying risk of serious illness in children in the "Emergencies" section of this website.
ACCESS TO GOLD STREET SURGERY
If you are deaf or blind, have limited mobility, English is not your first language, or you have another issue that makes it difficult for you to access our surgery or services, please contact us to discuss how we can help you. We recognise that everyone's needs are different, and will try to suggest solutions that are right for you. Some of the measures we can use include:
Video or text (SMS) consultations
Email consultations
Hearing Aid loop at Gold Street Reception
Self check-in screens at Reception
BSL Sign Language interpretation (needs to be booked in advance)
Telephone language interpretation for surgery consultations (more than 50 languages available)
Large print or simplified forms
Contact us by whatever means you find easiest to explore options. All our clinical Consulting Rooms are on the ground floor and level access. We may need to contact you by text or email or video before arranging a face-to-face appointment to ensure you are seeing the best person for your needs.
PLEASE KEEP YOUR MOBILE NUMBER UPDATED!
Gold Street Surgery has installed an improved text message appointment reminder and information service. This means the surgery can send you reminders and invitations for health reviews and promotions as well as reminders for any appointments you've booked. To make the best use of this, it is important that we have your up-to-date mobile phone details and your consent. If you've changed your mobile phone number please let us know as soon as possible. If you would like to opt out of receiving text messages for any reason, please let us know.
Surgery Times
Gold Street Surgery Opening Times:
| | |
| --- | --- |
| Monday – Friday | 8.00am – 6.30pm |
Extended Hours: Due to the Coronavirus we have made the decision to stop offering appointments between 7.00am and 8.00am on a Monday with the GP, Nurse and Healthcare Assistant. We will not be open until 8.00am on a Monday. This applies to the phone lines as well. Sorry for any inconvience this may cause.
If you have a medical problem which cannot wait outside surgery hours, please visit NHS111 online or phone 111 if you cannot use a computer. Calls are free from landlines and mobiles.
If AT ANY TIME you are experiencing severe chest pain, are bleeding heavily or think you may have broken bones, please ring 999 or go to your nearest Accident and Emergency Unit.
Click here for School Street Surgery opening hours.
 When the surgery is closed
If you require urgent medical assistance out of surgery hours please contact NHS111. To get help from NHS111, you can:
go to 111.nhs.uk (for people aged 5 and over only)
call 111 (please only phone 111 if you cannot get online)
NHS111 is available 24 hours a day, 7 days a week. Calls to this service are free from both landlines and mobiles. NHS111 includes the out-of-hours doctor service operated for West Essex GPs by Herts Urgent Care Ltd.
If you are contacting the surgery about a child, you may want to consult the National Institute for Health and Care Excellence's (NICE) "traffic light" system for identifying risk of serious illness in children in the "Emergencies" section of this website.
Evening and weekend appointments
You can now see a GP or another healthcare professional on weekday evenings and weekends. To book an appointment, please call the surgery. To find out more about the service, including the treatment centres where you may be seen, please go to https://hucweb.co.uk/services/gp-extended-access/
If you have booked an evening or weekend appointment in West Essex via your GP surgery and need to cancel or change it, please ring NHS111 and select option 3.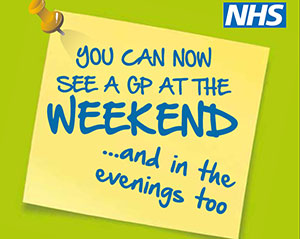 PARKING AT GOLD STREET SURGERY
There is very limited parking at Gold Street Surgery, which is reserved for patients with mobility difficulties (while attending the surgery), doctors and surgery staff only. Access is required at all times for Ambulances and urgent healthcare deliveries. Please help us by using the 285 space public car park next door off Fairycroft Road (Waitrose) instead – this includes spaces for drivers with limited mobilty immediately adjacent to the surgery access. All patients and visitors to the surgery are reminded to take extra care at all times as there may be moving vehicles immediately outside the surgery. There is no public right of way through the surgery site.
Please note that parking at Gold Street and School Street is entirely at the driver's risk. The surgery can accept no liability for any loss or damage to vehicles or their contents parked at Gold Street and School Street surgeries, however caused. Persons choosing to park at the surgeries will be deemed to have accepted this. The Car Parks are not open to the public outside surgery hours and there is no right of way through the surgery grounds. PLEASE TAKE EXTRA CARE IN ICY OR SNOWY CONDITIONS AS THE CAR PARKS AND PATHS MAY BE SLIPPERY.

The people caring for you need access to your health and care record in order to make the best decisions about your diagnosis and treatment. For this to happen more quickly and to improve the care you receive, a new process has been put in place. With your permission, My Care Record will provide health and care professionals directly involved in your care, access to the most up-to-date information about you. To find out more please go to www.mycarerecord.org.uk
Gold Street Surgery encourages patients to allow them to share this information securely with other health care organisations. Access is always on a "need to know" basis only. If you have previously opted out of sharing care information, you need to give us explicit permission to share information to My Care Record. Please see the more detailed section on this website for our "fair processing notice".
To find out more please go to www.mycarerecord.org.uk
APPOINTMENTS AND REPEAT PRESCRIPTIONS – DO IT ONLINE!
Try the NHS App
If you're a patient at Gold Street Surgery you can now use the new NHS App, a simple and secure way to access a range of NHS services on your smartphone or tablet.
You can use the NHS App to check your symptoms and get instant advice, book appointments, order repeat prescriptions, view your GP medical record and more.
If you already use Patient Access you can continue to use it, but you may find the NHS App offers a more comprehensive service.
For more information go to www.nhs.uk/nhsapp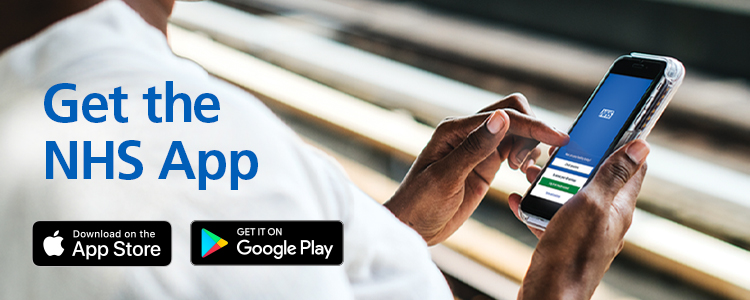 You can also book appointments and order repeat prescriptions online using Patient Access, which is operated by our clinical computer system supplier. There is also a smartphone app (available for IOS and Android). Before you can use this service please contact reception as you will need a username and password to get started. You may need to show some proof of identity. You can also view parts of your medical record online (this requires a specific additional application and identity verification).

<< Join our Patient Group - click here to find out more >>
ZERO TOLERANCE
NHS staff should be able to come to work without fear of violence, abuse or harassment from patients or their relatives. In most cases, patients and their relatives are appreciative towards those who treat them but a minority of people are still abusive or violent towards staff. The NHS is committed to dealing with this problem and has a 'zero tolerance' attitude towards violence or aggressive behaviour. Gold Street Surgery unequivocally supports this policy. Offenders will usually be warned not to repeat their behaviour, but the surgery reserves the right to remove from its list without further warning repeat offenders or those who are physically or verbally violent towards staff, or who behave in a discriminatory manner.