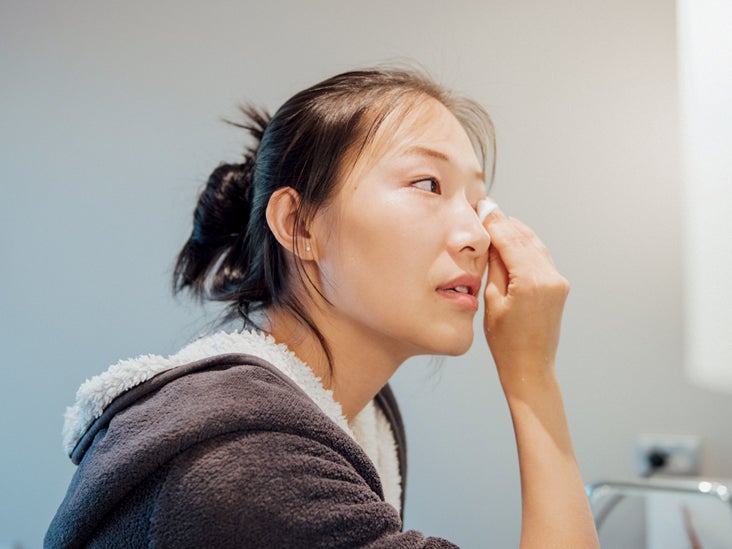 While the point of traditional makeup removers may be to remove the chemicals from makeup, many removers only add to this buildup. Store-bought removers often contain alcohol, preservatives, and fragrances, to name a few.
When it comes to makeup — and makeup remover — natural products are often best for your skin.
In this article, we'll explore 6 DIY makeup remover recipes that use only natural ingredients proven to be gentle on your skin.
Thanks to its anti-inflammatory and antioxidant properties, witch hazel works wonders for those with acne-prone skin. It's also ideal for those with dry skin, since witch hazel rids the skin of excess oil, while still leaving it nourished.
Healthy living blog Wellness Mama recommends the following recipe:
You'll need
a 50/50 solution of witch hazel and water
Instructions
Using a small container, mix equal parts of witch hazel and water. Apply the liquid to a cotton ball or round. Then, gently apply it to your face or eyes in circular motions to remove makeup.
If you're looking to liven up a dull complexion, this honey mask will remove makeup and leave your skin glowing by removing dead skin cells.
Honey is also known for its antibacterial properties, which makes it perfect for those with acne or acne scars.
You'll need
1 tsp. your choice of raw honey
Instructions
Massage the honey on your face. Let it sit for 5 to 10 minutes, and then rinse off with warm water and a cloth.
While it might sound counterintuitive to use oil to treat oily skin, this cleansing method actually pulls excess oil out of the skin. It's safe to use on all skin types, and the ingredients can be tailored for individual skin concerns.
You'll need
1/3 tsp. castor oil
2/3 olive oil
a small bottle for mixing and storage
Instructions
Mix the castor oil and olive oil together in a bottle. Apply only a quarter-sized amount to dry skin. Leave on for 1 to 2 minutes.
Next, place a warm, moist cloth over your face to let it steam, making sure the cloth isn't overly hot as to cause burns. Let it sit for 1 minute. Use the clean side of the cloth to wipe your face.
You can leave some product behind to soak into your skin. Store the bottle in a cool, dry place.
This combination of jojoba oil and rose water can be used on all skin types, but it's most suitable for dry skin. The jojoba oil provides anti-inflammatory and antioxidant benefits, while the rose water refreshes the skin and leaves a subtle, rose petal fragrance.
Lifestyle blog StyleCraze recommends this recipe:
You'll need
1 oz. organic jojoba oil
1 oz. rose water
a bottle or jar for mixing and storage
Instructions
Mix the two ingredients together in a jar or bottle. Shake. Using either a cotton pad or ball, apply to your face and eyes.
You can use a clean, dry cloth to gently remove any makeup that's left behind.
If it's gentle enough for a baby, it's gentle enough for your skin! According to the Free People blog, this makeup remover is suitable for all skin types, and it won't sting your eyes the way baby oil does.
You'll need
1/2 tbsp. of Johnson's Baby Shampoo
1/4 tsp. olive oil or coconut oil
enough water to fill the container
a jar or bottle for mixing and storage
Instructions
Add the baby shampoo and oil into the container first. Then, add enough water to fill the container. Don't be concerned when oil pools together at the top — this is normal.
Shake well and dip a cotton ball, cotton pad, or a cotton swap inside. Use on skin or eyes.
Store in a cool, dry place, and be sure to shake well before each use.
Commercial makeup remover wipes may be convenient, but most contain the same chemicals that liquid removers do. Homemade makeup remover wipes are a great alternative. Plus, they only take a few minutes to make and should last you about a month, as long as they're stored properly.
You'll need
2 cups of distilled water
1-3 tbsp. of your choice of oil
1 tbsp. witch hazel
15 paper towel sheets, cut in half
a mason jar
25 drops of your choice of essential oil
Instructions
Begin by folding the pieces of paper towels in half and placing them in the mason jar. Next, add the water, oil of your choice, essential oils, and witch hazel. Using a whisk or fork, combine ingredients.
Right away, pour the mixture over the paper towels. Secure with lid and shake until all paper towels are soaked with the liquid. Store in a cool, dry place.
Storage tip
Be sure to use a tight-fitting lid, and always keep the jar closed when you're not using it. This will help prevent the wipes from drying out as well and avoid contamination.
Exfoliating is an excellent way to take care of your skin. It sloughs away dead skin cells, improves blood circulation, and improves the overall appearance of your skin.
Brown sugar and coconut oil are great for the skin separately, but when combined, they're a powerhouse. This homemade scrub is suitable for all skin types.
You'll need
2 cups brown sugar
1 cup coconut oil
a jar to mix and store
10-15 drops of essential oil for fragrance, if desired
Instructions
Combine the brown sugar, coconut oil, and essential oils (if using) in a jar using a spoon or stir stick. Apply to the skin in circular motions using your hands, exfoliating gloves, brush, or sponge.
Do a patch test before using any essential oils
A patch test helps you determine how your skin will react to a substance before using it fully. Follow these steps to perform it properly:
Wash an area on your forearm with mild, unscented soap, and then pat the area dry.
Add a few drops of the essential oil onto a patch on your forearm.
Cover the area with a bandage and keep the area dry for 24 hours.
Wash off the essential oil with soap and warm water if your skin reacts and shows any of the following signs: itchiness, a rash, or irritation.
Skip using that essential oil when making your homemade makeup remover.
Don't rub your eyes too hard when removing makeup
Since the skin around your eyes is very sensitive, don't rub too harshly.
For waterproof mascara, leave a cotton round with remover on your eyes for 30 seconds to a minute before rubbing the makeup off.
After removing makeup, wash your face
After removing your makeup, you're not ready for bed just yet. Be sure to take the time to wash your face afterward. Doing so:
prevents breakouts
removes impurities such as dirt and excess oil
helps with the process of skin renewal
Cleansing your skin after using makeup remover also picks up excess makeup that was left behind. Additionally, moisturizing afterward — ideally with an SPF moisturizer of at least 30 if removing makeup during daytime hours — is ideal.
Makeup remover is an essential item to have if you wear makeup. It's even better, though, when you can make it at home, naturally, and for a fraction of the cost.
Instead of using store-bought makeup removers that contain chemicals, try these natural DIY methods that can be made right at home. They'll bring you one step closer to your best beauty sleep yet.